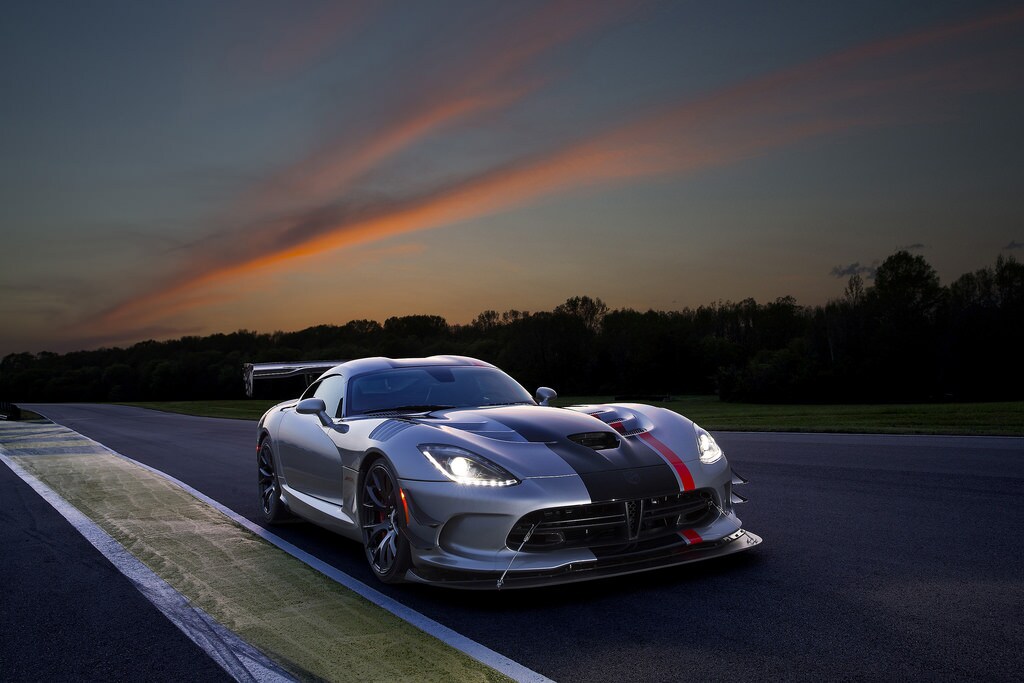 The Dodge Viper first slithered onto the streets from the track back in 1992. The latest version of the snake made its Canadian debut at the 2016 Canadian International Auto Show in February. The most noteworthy update is the reintroduction of the 2016 Dodge Viper ACR (American Club Racer) for the model year.
The track-focused ACR comes with several distinct features that separate it from the base GTC and mid-level GTS. The supercar, which was originally introduced to the Viper lineup back in 1999 and returned briefly in 2010, comes with several upgrades to its aerodynamic, brake and suspension systems. The ACR is lighter than its predecessor thanks to the use of strong but lighter materials in the engine and the underlying chassis. The former, for example, weighs approximately 11 kg less than the previous generation's plant while the coupe is overall 45 kg lighter.
Other exclusive bits are the above mentioned brakes by Brembo, massive 22-centimeter wheels, Bilstein racing shocks and a hand-crafted interior with Alcantara. And you definitely can't miss the massive rear wing. Forty percent larger than that the optional one offered on the TA 2.0 package, this feature makes the ACR a standout on and off the road. The ACR also comes with its own unique badging as well.
Continuing to power all 2016 Dodge Viper models is a 8.4-litre V-10. Carrying over from last year, this potent powerplant is handcrafted using the latest in light-weight aluminum. Output is a jaw-dropping 645 horsepower and 600 pounds-feet of torque. That's the most torque, according to Dodge, for any naturally-apirated engine. The six-speed manual is the only transmission.
"The brawny capabilities that the Viper always had are now accessible and controllable for a much wider range of drivers. Hallelujah," writes the staff at MotorTrend Canada. "The ACR will now make more heroes than zeroes. Another reason for this is the smooth, nearly invisible operation of the carefully calibrated stability control. SRT is proud of this, too, and has a right to be."
Each of the three Viper's three trim levels come equipped as expected for a six-figure price tag. Power accessories, Bluetooth audio connectivity, a rearview camera system and a 12-speaker premium audio system are a few of the notable ones found standard on the GTC. Same with tires from Pirelli and a driver-selectable suspension system. The GTS builds on those items with its own features like a limited slip differential rear axle. Option packages like the Time Attack Group 1.0 are available for buyers to customize their supercar. Finally, the Viper can be configured in more than 50 million unique builds thanks to over 16,000 colour combos, 48,000 stripes and matte-finish exterior paint.